Indochina In-Depth: Temples & Teal Water
Booking Dates
01/02/2020 through 12/28/2021
Travel Dates
01/02/2020 through 12/31/2021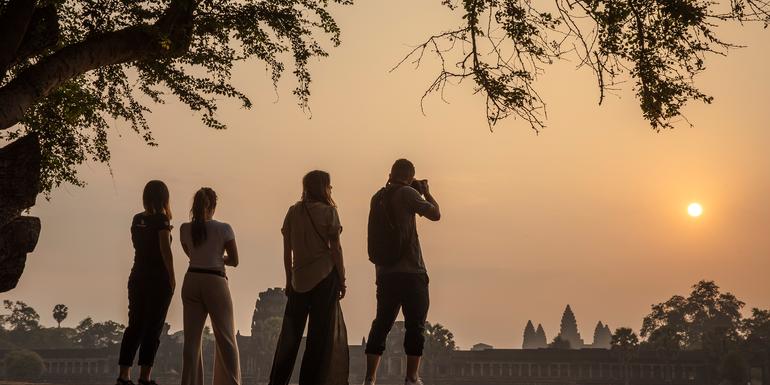 Indochina In-Depth: Temples & Teal Water
If you think it's impossible to cover all of Indochina in 41 days, well, we'd like to prove you wrong. This epic, fast-paced journey covers five countries in Southeast Asia (Thailand, Cambodia, Vietnam, Laos, and Myanmar), making it the perfect snapshot for first-time visitors. Your days will be packed to the gills with activities like visiting Angkor Wat, trekking with hilltribes in Myanmar (Burma), exploring underground rivers in Phong Nha, and touring temples and markets. And with two overnight homestays, sleeper trains, and three included flights, you can rest easy knowing you're getting the most out of your time in this mind-blowing region.

Highlights
Revel in the majesty of Angkor Wat, witness monks receiving alms in Luang Prabang, trek along the rice paddies in Kengtung, cruise magical Halong Bay, scour markets across five unique countries, explore temples and stupas from ancient times in Myanmar (Burma), learn how to make noodles at a G Adventures-supported enterprise, experience an overnight village homestay along the Mekong
Accommodation
Simple hotels (twin-share) (19 nts), hostels (multi-share) (14 nts), sleeper trains (3 nts), sleeper bus (2 nts), homestays (2 nts).
Group Leader
Chief Experience Officer (CEO) throughout, local guides.
Group Size Notes
Max 18, avg 12.
Meals Included
28 breakfasts, 3 lunches, 3 dinners
What's Included
Your G for Good Moment: Local Khmer Meal, Siem Reap
Your G for Good Moment: Oodles of Noodles Demonstration and Lunch, Hoi An
Your G for Good Moment: Mekong River Homestay & Baci Ceremony, Muang Pakbèng
Your G for Good Moment: Meal at Sanon Restaurant and Culinary Training School, Bagan
Your Welcome Moment: Meet Your CEO and Group
Your Big Night Out Moment: Siem Reap
Your Discover Moment: Phnom Penh
Your Local Living Moment: Home Meal, Chambok
Your Discover Moment: Ho Chi Minh City
Your Discover Moment: Luang Prabang
Your Discover Moment: Chiang Mai. Guided tour of Angkor Wat temple complex. Halong Bay boat cruise with lunch. Witnessing the giving of alms (Luang Prabang). Slow boat up the Mekong. Trekking excursion (Kengtung). Sunrise temple tour (Bagan). Orientation walks in Ho Chi Minh City, Hoi An, Hanoi, Phnom Penh, Luang Prabang, and Yangon. Two street food crawls in different cities. Internal flights. All transport between destinations and to/from included activities.
Itinerary
Destination
Pricing
Terms and Conditions
| Day | Description | View All |
| --- | --- | --- |
| Day 1 | Bangkok | Details |
| Day 2 | Bangkok/Siem Reap | Details |
| Day 3 | Siem Reap | Details |
| Day 4 | Siem Reap/Phnom Penh | Details |
| Day 5 | Phnom Penh | Details |
| Day 6 | Phnom Penh/Koh Rong | Details |
| Day 7 | Koh Rong | Details |
| Day 8 | Chambok Homestay | Details |
| Day 9 | Chambok Homestay/Ho Chi Minh City | Details |
| Day 10 | Ho Chi Minh City/Nha Trang | Details |
| Day 11 | Nha Trang | Details |
| Day 12 | Nha Trang/Da Nang | Details |
| Day 13 | Da Nang/Hoi An | Details |
| Day 14 | Hoi An | Details |
| Day 15 | Hoi An/Hu? | Details |
| Day 16 | Hu?/Phong Nha | Details |
| Day 17 | Phong Nha/Hanoi | Details |
| Day 18 | Hanoi/Ha Long | Details |
| Day 19 | Ha Long Bay/Hanoi | Details |
| Day 20 | Hanoi/Vientiane | Details |
| Day 21 | Vientiane/Vang Vieng | Details |
| Day 22 | Vang Vieng | Details |
| Day 23 | Vang Vieng/Luang Prabang | Details |
| Day 24 | Luang Prabang | Details |
| Day 25 | Luang Prabang/Pak Beng | Details |
| Day 26 | Pak Beng/Chiang Khong | Details |
| Day 27 | Chiang Khong/Chiang Mai | Details |
| Day 28 | Chiang Mai | Details |
| Day 29 | Chiang Mai/Kengtung | Details |
| Day 30 | Kengtung | Details |
| Day 31 | Kengtung/Inle Lake | Details |
| Day 32 | Inle Lake | Details |
| Day 33 | Inle Lake/Bagan | Details |
| Day 34 | Bagan | Details |
| Day 35 | Bagan | Details |
| Day 36 | Bagan/Mandalay | Details |
| Day 37 | Mandalay/Yangon | Details |
| Day 38 | Yangon | Details |
| Day 39 | Yangon | Details |
| Day 40 | Yangon/Bangkok | Details |
| Day 41 | Bangkok | Details |